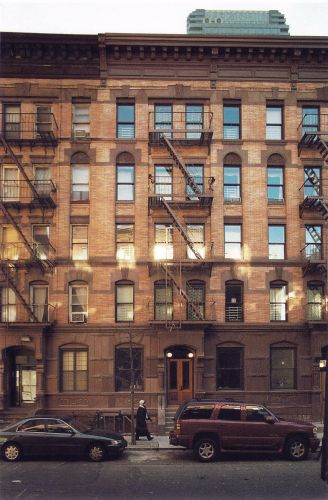 Through an innovative New York City program the tenants of these two 1890s tenement apartment buildings in the Times Square District of Manhattan formed an association —The Crossroads— to take ownership of these city-owned buildings.
SYNCRO worked with the New York City Department of Housing Preservation and Development program to provide comprehensive architectural and engineering design services for the client from planning through construction administration.
The two buildings have been connected with a contemporary curtain-wall element. This vertical bridge completes the creation of a new, south-facing U-shaped public corridor space on all floors. An elevator serves all levels of the fully accessible, ADA compliant building.
The open stair and true-divided light windows in this space create a sense of community reflecting both the past and future of this association of shareholders, some of whom have lived in their apartments here for a half-century.
The project involved relocation of all residents during construction. The building was gutted and completely reconfigured for new apartment layouts, modern electrical, heating and plumbing systems.
Custom features were designed for all individual shareholders. Standards were set for the building within which individuals were able to choose. Bedroom and closet configurations, tile and color schemes, as well as kitchen options were individually determined. In addition, several shareholders embarked upon customization of their apartment with personalized design services from SYNCRO. The achievement of individually designed spaces, ranging from unique bathroom designs to changes in the building envelope, embodies the spirit and challenge of the project.
The owners of a top floor studio wished for more space, and SYNCRO designed a large bulkhead skylight above the existing roof. This required a new steel structure and expedited approvals from the city. Another top floor apartment features an open, contemporary plan with motorized skylights and a wood-burning masonry fireplace.

Design / Completion 2000 / 2004
New York, New York
The Crossroads HDFC/New York City Dept of Housing Preservation & Development (HPD)
24,000 square feet
Brownstone, brick, steel and timber structure, wood windows, acoustic floors and partitions, oak and ceramic tile flooring.