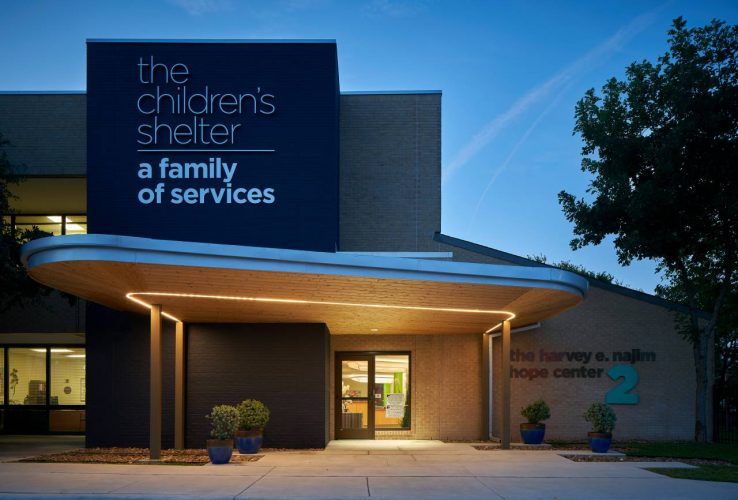 "AIA's Community Impact Award recognizes projects that integrate effective social outcomes addressing health and economic disparity with the highest level of design expectations."
UPDATE: This project received a 2021 Places + People Award
2021 Community Impact Award goes to The Harvey E. Najim Hope Center 2. The San Antonio Chapter of the American Institute of Architects awarded SYNCRO Architecture Studio for this project. "AIA's Community Impact Award recognizes projects that integrate effective social outcomes addressing health and economic disparity with the highest level of design expectations."
SYNCRO provided complete architectural services for Hope Center 2, a 2-fold expansion of the Children's Shelter's pediatric mental health outpatient clinic for children and their families. By re-configuring the interior and providing strategic connections to exterior environments, SYNCRO transformed an underutilized, outdated wing of the existing administration building into a dynamic, naturally illuminated, welcoming suite of hard working spaces.
This adaptive reuse project introduces natural lighting with efficient tubular skylights and brings the garden indoors through energy-efficient, full-height windows. Three specialized therapy rooms are located just off a spacious, naturally-illuminated lobby which is shared with the adjacent pediatric medical clinic. Private offices for therapists and a shared social workers office all have new windows also. The reception area is centrally located under a luminous and colorful fabric cloud, a digitally-designed fabrication. The soft and dynamic shape provides a sense of transformation and movement, and a second fabric cloud hovers over the waiting area.
The acoustic environment plays a critical role in providing effective therapy. Absorptive surfaces create a quiet atmosphere, and privacy is ensured with high sound transmission coefficient (STC) partition assemblies and doors with acoustical seals.

Design / Completion: 2017 / 2018
San Antonio, Texas
The Childrens Shelter
3,785 square feet (interior)
construction cost (withheld)
Western red cedar, steel, tubular daylight devices, custom-designed fabric clouds, rubber flooring, carpet, maple veneer millwork and doors, aluminum frames, gypsum board, glass and aluminum fenestration.
Project Design Team & Consultants:
SYNCRO Architecture Studio team: David Bogle, R.A., AIA, Pablo Cesar Chavez
Structural Engineering: HQ Engineering
MEP Engineering: RGM Engineering, LLC
Civil Engineering: Tomsu Stokinger Engineering, LLC
Fabric assemblies: Duvall Design, Inc.
Environmental Graphics/Branding: Bradford Lawton
Interiors: Linda Fugit
Constructor: G.W. Mitchell Construction
Photography: Dror Baldinger, FAIA