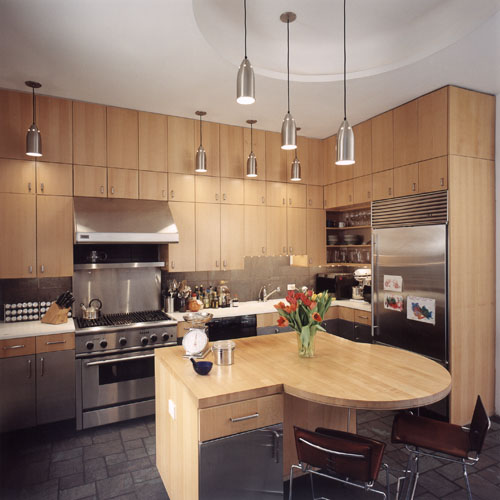 Comprehensive architectural and engineering services were provided for the design and construction of an adaptive reuse of a landmark 1887 row house in Brooklyn's Cobble Hill Historic District.  Restoration of original features, functional space planning and state-of-the-art building technologies harmonize in a custom home tailored for a family.  This 16' – 9" wide property was a three-family property when the Owners purchased to restore to its original single-family use.
The resulting design solution restored the stair and removed the enclosure around it to effectively widen both the front parlor at the entry level and the library on the second floor.  Behind the front parlor, a contemporary kitchen leads to the dining room in the rear.  By removing an existing brick fireplace in the rear façade, an opening for a new window allows the dining room to overlook the rear garden.  A new glass door and repurposed steel fire-escape stair lead directly down to the rear garden.  Existing partitions on upper levels were removed and custom millwork storage walls were positioned to divide the front and rear spaces.  The storage walls were configured with a clerestory to allow natural cross-ventilation and provide a sense of the space beyond, reinforcing expansion in contrast to the confines of the narrow site.
Multiple projects were completed after the initial gut-rehabilitation and included the design of the garden, and finish-out of the basement level.
SYNCRO obtained approvals from the New York City Department of Landmarks Commission for façade improvements including new insulated glass wood windows, painting and restoration of the brick and brownstone masonry.
Design / Completion: 1997 / 2004
Brooklyn, New York
Urban Residence – Adaptive Reuse
3,180 square feet
Brownstone, brick and timber existing structure, wood windows, plaster walls & ceilings, slate flooring, existing wood & wide-plank oak floors, glass tile, solid surfacing counters, quarter-sawn/rift-cut maple and stainless-steel cabinets.
Photography by David Bogle, except selected photographs (1-5 in Gallery) by Travis Dubreuil.