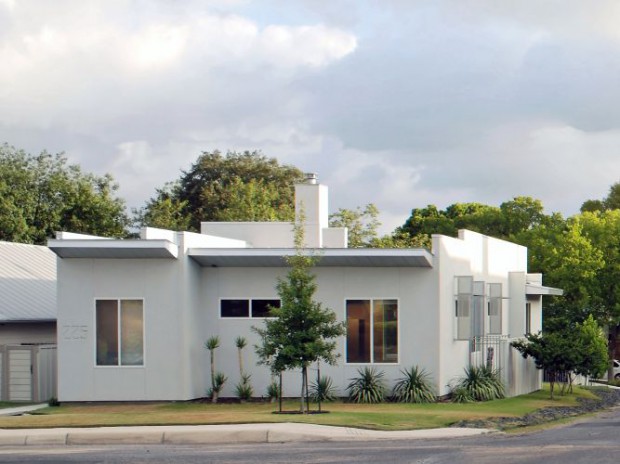 Click on the image above to view the Project Gallery.
The hallmark of this private residence is the philosophy that good, contemporary design should be affordable.  Attention to design combined with use of economical construction means and materials enabled a tight budget to create a unique energy-efficient home that fits the owner's down-sizing lifestyle.  The client, who loves to entertain guests and is an avid gardener, also requested the capacity to enjoy the outdoors without sacrificing privacy or security.
The result is a home featuring a fluidity of light-filled space, a strong integration of the indoors with the outdoors, a sense of openness that highlights the owner's art collection and furnishings, and energy-efficiency.  The single-level home conforms to any future age related mobility challenges. Innovative window placement and design provides both security and privacy while balancing natural light and energy consumption.  For further energy efficiency, the house is designed with no attic space, tight envelope design details, maximum cellulose wall and roof cavity insulation, vinyl windows with insulated low-e glazing.  A standing seam galvalume roof, eaves, overhangs and soffits completes a low-maintenance exterior while drawing from regional design traditions.  Guided by four design priorities: simplicity, security, indoor-outdoor open-plan, and energy efficiency: this residence provides the ability to live in a well designed home while preserving the client's retirement savings.
This home was selected for inclusion in 2011 AIA San Antonio Homes Tour, and is the featured residence in the San Antonio Express-News article "SPACES: Downsizing into Mod Design on AIA Home Tour".
View the AIA San Antonio 2011 HOMES TOUR ON-LINE MAP
Urban Home Magazine chose this residence to feature in October-November 2011 issue. Read the article, 'A Study in Efficiency.'

Private Residence
San Antonio, Texas
Design/Completion: 2007/2009
1,820 square feet
stucco exterior, galvalume standing-seam metal roof, overhangs and soffits, cellulose insulation, low-e insulated glazing, custom metal exterior window shades.