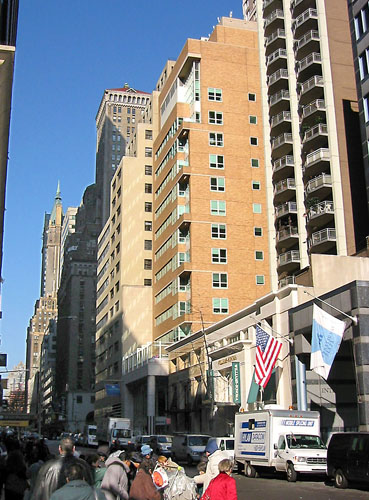 Lighthouse International, the nation's preeminent organization for the visually impaired, contacted Mr. Bogle and commissioned SYNCRO to prepare a feasibility study for the redesign of the medical clinic in their headquarters in 2000. This success led to a number of other projects including the remodeling of the Children's Development Center, a preschool on the 3rd floor of their Manhattan building.
Other project services have ranged from existing conditions analyses to construction administration.
From 1990 – 1994, Mr. Bogle was project architect at Mitchell/Giurgola Architects for the design and construction of the Manhattan headquarters building.
Headquarters, Manhattan:
Accessibility Modifications Feasibility Study | Adult Classrooms & Offices Remodel | Boardroom Audio Visual and Furnishings Upgrade | Children's Development Center Feasibility Study | Children's Development Center Remodel | Low Vision Clinic Expansion Feasibility Study | Low Vision Education Suite Remodel | Mail Room Feasibility Study | Mechanical Systems Analysis | Retail Store Addition Feasibility Study | Video Conferencing Center Feasibility Study
Lighthouse International, Queens:
Tenant Improvements, Remodel


New York, New York
Architectural Services: 2000 – 2004
Multiple buildings and spaces